Overview
Design Choices
Specifications
How To
Overview
Our exclusive Snap Right™ Curtains are redefining how privacy products benefit your patients and staff. Our custom-manufactured curtains allow you to incorporate your fabric of choice in any size needed.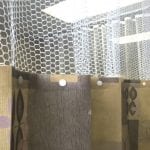 HAIGuard™'s Snap Right™ Reusable Curtains combine sustainability and efficiency. Your staff is able to quickly change panels in less than 2 minutes without a ladder. Our snap buttons make it easy to change out curtains for isolation cases between regular service visits.
HAIGuard™'s Snap Right™ Disposable Curtains combine the sustainability of reusable mesh curtains and the ability to quickly change disposal panels in less than 2 minutes without a ladder.
One-Size-Fits-All disposable panels are attached to our matching permanent mesh system to extend the finished curtain size from 6 to as much as 33 feet. The mesh remains in place using your existing track system and you only need to change the disposable panel as needed. Our system is ideal for any high-volume contact area, or high splash or critical patient care area where targeting Hospital Acquired Infections or faster room turnovers is a priority.
Recommended for ICU's, ER's, L&D, Dialysis, and patient treatment areas.
Mesh is manufactured in 6-foot increments and custom heights for standard and easy access.
Custom Logo fabric available on large orders.
Panels overlap the next by 6 inches and include 2 extra privacy snaps.
Includes quick ship programs for stock replacement panels.
Additional service programs may be available for onsite maintenance in some areas.
Performance and cost advantages of a permanent solution with the ease of a disposable or efficiency of a reusable.
Design Choices
Specifications
How To
Let's talk about preventing HAI's at your facility.
Fill out the form below to start the conversation.